Stretching with Two Hotties
Doing yoga can be a lot of fun, but watching two juicy chicks, Kay Lovely and Gizelle Blanco, take different yoga positions is a lot more fun. I was enjoying two hotties bend down and lift their round butts into the air. I got so excited at the yoga class that I even couldn't hide a hard-on in my pants from the two bisexual girlfriends. Luckily, they were kind enough to stop the class and take care of my dick.
Go ahead and dive into the Virtual Reality World!
JOIN
DOWNLOAD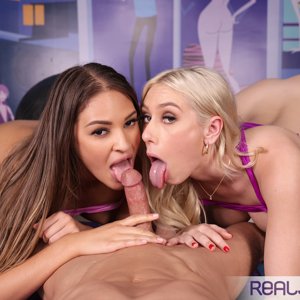 SHOW MORE